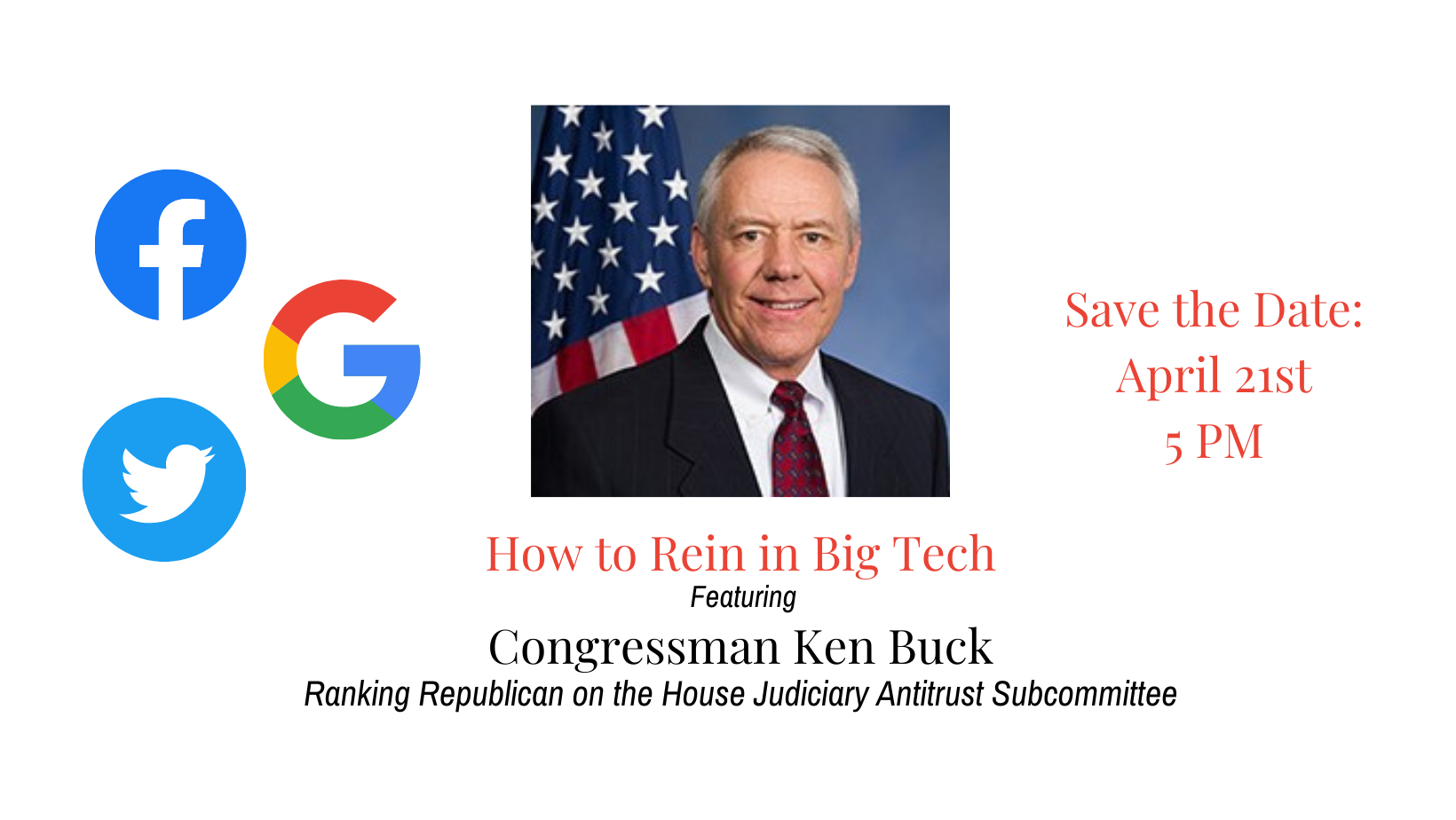 Dear Friends,
The concept of reining in Big Tech can cover a broad range of topics in today's landscape. Our freedom speech is one notable starting point. In 2021 alone, we have seen a heightened level of activity, including censorship and technology de-platforming, aimed at curtailing this quintessential freedom. What role does Big Tech have in these activities? And how much latitude and cover does Section 230 allow Big Tech in limiting the voice of individuals? Introduced 25 years ago, before most modern technology companies were founded, Section 230 was designed to protect the service owner from liability for content someone else provided. As social media companies play a heavier hand in content allowed on their platforms, is this liability protection warranted? As many across the political spectrum are now seeking Section 230 reform with varying agendas, there are growing bipartisan efforts to rein in Big Tech giants acting like monopolies.
Along another vector, Big Tech, including social media, plays an outsized role in our lives today, and is on a trajectory to become even more pervasive over time. Our cars, tvs, phones, security systems, refrigerators, lights, heating systems, exercise equipment and much more serve as sources of computing power, internet access, tracking systems and more. What doesn't Big Tech know about our lives? How are we influenced daily by it's reach? And where is the line between what is acceptable and what is too invasive, especially as it pertains to our data?
"How to rein in on big tech" is the focus of SPARC's speaker series event this month, featuring Congressman Ken Buck. Mr. Buck is currently a Colorado Congressman (14th District) and Member of the House Judiciary Committee considering antitrust action. As the top Republican on the House Subcommittee on Antitrust, Commercial and Administrative Law, he noted in a recent WSJ article that big tech companies are taking control of public debate as well as the online marketplace. "The robust exchange of ideas has always been important in this country but it is now essential as conservative seek to battle 'cancel culture' and maintain a voice in the public square," said Mr. Buck. From his seat at the table, Congressman Buck has valuable insights on reining in Big Tech.
SPARC is pleased to co-host this event with our parent organization, California Congress of Republicans (CCR). This is a virtual event via Zoom and can be accessed through your computer, tablet or smartphone. A link to the meeting will be sent by email once you register for the event.
Thank you for your continued support of our programming. Please support SPARC by renewing your membership or becoming a new member using this link: Join SPARC https://sparcgop.org/join-sparc-memberships/
Very truly yours,
Your SPARC Board
SPARC Events Committee
South Peninsula Area Republican Coalition (SPARC)
sparcgop@gmail.com
(848) 467-7272
Congressman Ken Buck
Ranking Republican on the House Judiciary Antitrust Subcommittee